August 27, 2018
How to customize or change background of window Logon Screen | Trick
Reading Time:
2
minutes
Let learn some interesting today 
 how we Change background of logon screen from the daily boring screen. You can place an image instead of by default window screen.
This trick is simple just change some registry details as describe in trailing article and place any image you want as a background of logon screen. Lets Start
For Example:-
Following steps for Change background of window Logon Screen
Launch the Windows Registry Editor by typing Regedit in Start Menu or in RUN
Go to '

HKEY_LOCAL_MACHINE\Software\Microsoft\Windows\CurrentVersion\Authentication\LogonUI\Background'

.
Change the value from "0" to "1"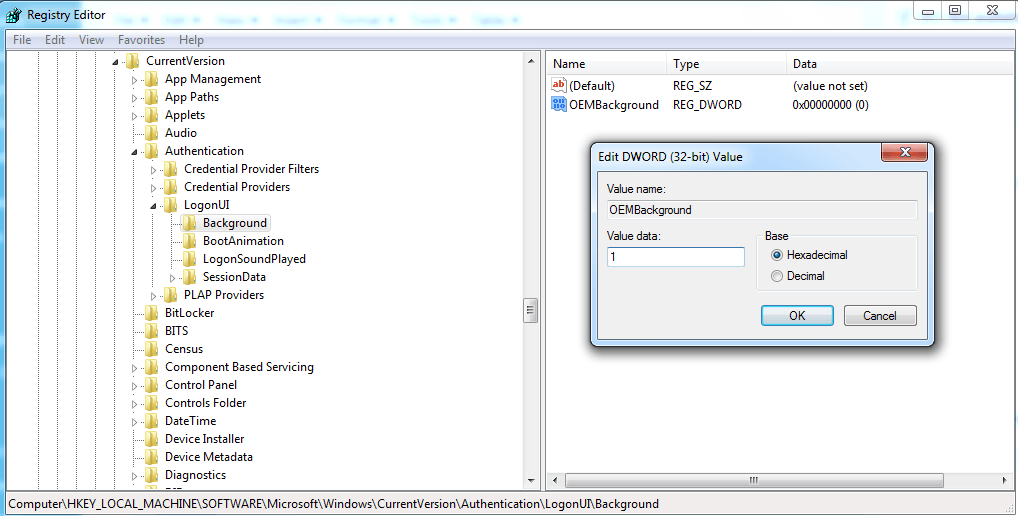 Double-click the DWORD value called 'OEM Background' to open it and enter 1 in the Value data field.
Note: If the DWORD 'OEM Background' is not there, you need to make it.
Browse to the background image that you would like use on the log-in screen. A JPEG file that is less than 245 kb in size can only be used here.

Copy the image you want to use into the '

C:Windows\System32\oobeinfobackgrounds

' folder. If the folder is not present, you need to create it.
Rename the image to

backgroundDefault.jpg

Restart your computer to check the new login background screen.




More From the Blog

I know you like this tutorial share this article with your friends and don't forget to subscribe IT KEEDA for more and more interesting article. Comment your views in the comment section.