July 20, 2019
Killer way of convert magnet link to direct download
Reading Time:
4
minutes
Howdy, guys !! today we cover the topic "How to convert magnet link to direct download and stream torrent movies online". 
This is not difficult as you think there are several online sites that offer to convert the torrent magnetic link to direct.
What is a Magnet link
A magnet link is a type of hyperlink that enables the downloading of files and data from P2P sharing networks, particularly torrent networks.
It works in a server-less environment and contains all the information a torrent client requires to download a specific file.
Magnet link look like as follow
magnet:?xt=urn:btih:C64B8BCF1A3BF35F9076D8FFAB3A26D45EC26870&dn=Pet.Sematary.2019.1080p.UHD.BluRay.x265.HEVC.10bit.5%2C1ch%28xxxpav69%29&tr=udp%3A%2F%2Ftracker.openbittorrent.com%3A80%2Fannounce;tr=udp%3A%2F%2Ftracker.opentrackr.org%3A1337%2Fannounce
Benefits of downloading thru magnet link
As I Practically observe that if we download torrent through magnet link it downloads faster then through Utorrent or bit torrent software.
Also, it can download low health torrent (Not all) which we are unable to download or download at very low speed.
Convert magnet link to direct download
Now comes to the topic How to direct download torrent files. It is not as difficult as you think.
Here We convert magnet link to direct link through website SEEDR  which gives you 2GB space initially and Unlimited bandwidth as a free member and you can earn free space up to 2-3 GB extra will tell you how further.
In a free plan you can add one file at a one time another file will add after first file collecting seeds and ready to download.
Also Read:- Delete Duplicate Photos On Android by these 3 Killer Ways
Step By Step Guide to Convert magnet link to direct download
Open SEEDR and Register your self first. Either register with your mail or your FB login.

After registration, a confirmation mail will arrive on your mail click on activation and activate your seeder account.

You will see Seeder dashboard and space where you see written paste link URL here you paste magnet URL.
Now Go to any torrent site here I use extratorrent.ag or you can use torrent side https://1337x.to (Use VPN or Tor browser to access if block in your country) and copy any file magnet URL. You will see a magnet like an icon right-click on it and copy the link and paste in seeder and click on the + sign.
You see a folder with your torrent file name will appear after collecting all seeds from torrent now it ready to download click on Download icon its starting download., it will download in compress folder form
Note:- If the torrent is Block in your country you can open torrent thru VPN or TOR BROWSER for Mobile and PC
Also Read:- 5 best offline game for android worth playing in 2019
Download thru IDM
When you click on the download icon in seeder it will start a download indirect in your browser.
Open the download page of your browser and right-click on a downloading file and copy the download link and paste in IDM and click on start download.
Using Seeder thru Chrome Extension
You can also use SEEDR chrome extension to download add torrent in SEEDR thru on click add
CHROME EXTENSION
Go to torrent site right click on magnet link you will see ADD TO SEEDER click on it file will add on the seeder.
Using Seedr Thru Android app
Seedr also has an android app by which you can download torrent through seeder all steps are the same as above.
SEEDER APPDOWNLOAD
How to earn more space
Free member of Seeder get 2GB space first but you can earn around extra 2-3GB in your free membership account. My free account have now 5.5Gb space 😛 
If you have Twitter and Pinterest account share seeder link with the short review you will get 500Mb.
If you are a blogger write post on seeder you will get 500-1000MB According to your article quality. Hope I will get 1000MB 😉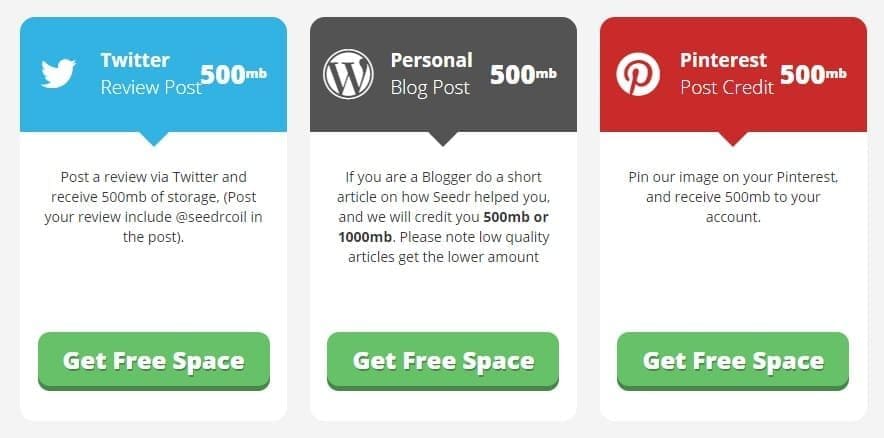 You can also earn by referring your Seeder account link with your friend when your friend will join seeder by your link you both will get 500 MB. It is limit upto 4 friends only.
Premium Plan
If you like it and want to buy their premium plan without any limitation they have three plans.
SEEDR BASIC

SEEDR PRO

SEEDR MASTER
How to Stream torrented movies online
After Adding magnet link in seedr it looks like folder as shown in the above image just double click on that folder and play the Movies. For more clarification see below Short video.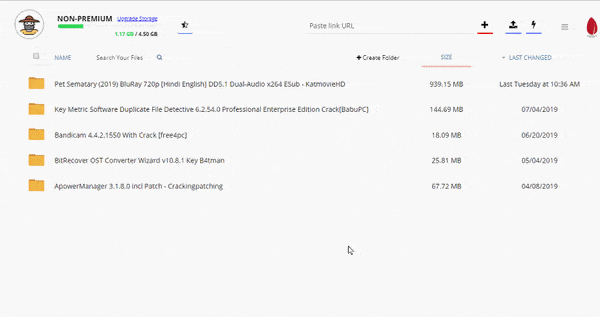 Ending
note
Hope friends you like this and also using seeder to downloading the torrent files through magnet link if this article helps you give your comments in the comment section.